The Ultimate Guide to Choosing the Best Dog Door for Your Sliding Glass Door
When it comes to our pets, convenience and safety are paramount. One way to ensure that your furry friends can move in and out of your home with ease is by installing a pet door. While we traditionally think of pet doors as being installed into walls or doors, there are options that can be installed into sliding glass doors. Plus, they are non-permanent and won't cause any lasting damage. 
But with the myriad of sliding glass door pet door options available, how do you decide which one is best for you and your pet? 
This guide will dive deep into everything you need to know to make an informed decision.
What Are Sliding Glass Door Pet Doors?
Sliding glass door pet doors are innovative solutions that allow your pets to move in and out of your home with ease, without you having to constantly open and close your main door. They are essentially panels that fit into the track of your sliding glass door, featuring a built-in pet door at the bottom. These panels can be made of various materials, including aluminum or vinyl, and come in different sizes to accommodate pets of all breeds and sizes. 
What's particularly beneficial about these pet doors is that they're often easy to install, requiring no permanent alterations to your existing door. Instead, they are available in adjustable height ranges that allow you to lengthen or shorten them to your sliding glass door's heights, all without making any permanent changes to your home.  This makes them an ideal choice for renters or those who don't wish to modify their primary doors. 
Most of all, they provide pets with the freedom to access the outdoors or come back inside whenever they please, while also ensuring that your home remains insulated and secure.
Deep Dive into Patio Panel Pet Doors
When shopping for a sliding glass door pet door, there are a lot of different features and options that you need to take into consideration in order to find the best one for your home, such as what type of glass you want and what material your frame is. 
Single vs. Dual-Pane Glass:
Believe it or not, but some models of pet doors allow you to pick what type of glass you have: single pane or dual pane. 
Single-Pane doors are more affordable and can be sufficient for milder climates. They might not be as effective in noise cancellation. If you're on a budget, options like the Endura Flap Thermo Panel 3e can serve you well.
Dual-Pane doors are the premium choice. They offer superior insulation, keeping your home's internal temperature consistent and reducing outside noise. Products like Pet Door Guys "In The Glass" (which is a regular dog door built into a glass pane) and Endura Flap Thermo Panel 3e with Dual-Pane Glass are fantastic options in this category.
Aluminum vs. Vinyl Frames:
Before choosing a pet door, you need to know if your sliding door is made of aluminum or vinyl. 
Vinyl and aluminum sliding glass doors often appear to be identical, but they have a few key differences. Vinyl sliding glass doors are made from a plastic-based material, durable yet light. They're energy-efficient and have thicker frames with wider tracks. Aluminum sliding doors are more common in older homes, are affordable, and require minimal upkeep. They come with thinner frames and narrower tracks.
A quick tap on the frame can help determine which material makes up your sliding glass door. Aluminum will produce a "panging" sound (like a frying pan), while vinyl gives off a muted "thunk."
When selecting a panel, ensure the material matches your sliding door to guarantee a proper fit and a cohesive look. Plus, mixing vinyl and aluminum may cause condensation around your panel's glass. 
However, in situations like an unusually tall track height, you might consider an aluminum panel for a vinyl slider.
Top Dog Door Options For Sliding Doors by Endura Flap:
The award-winning Endura Flap pet door is one of the best on the market, especially when it comes to sliding glass door pet doors. Between flap, material, and glass options, there is an Endura Flap patio panel to fit every need. 
Plus, every patio panel pet door from Endura Flap is available not only in a large variety of standard height ranges, but can also be custom built to fit your home. 
Vinyl Panel Options:
Aluminum Panel Options: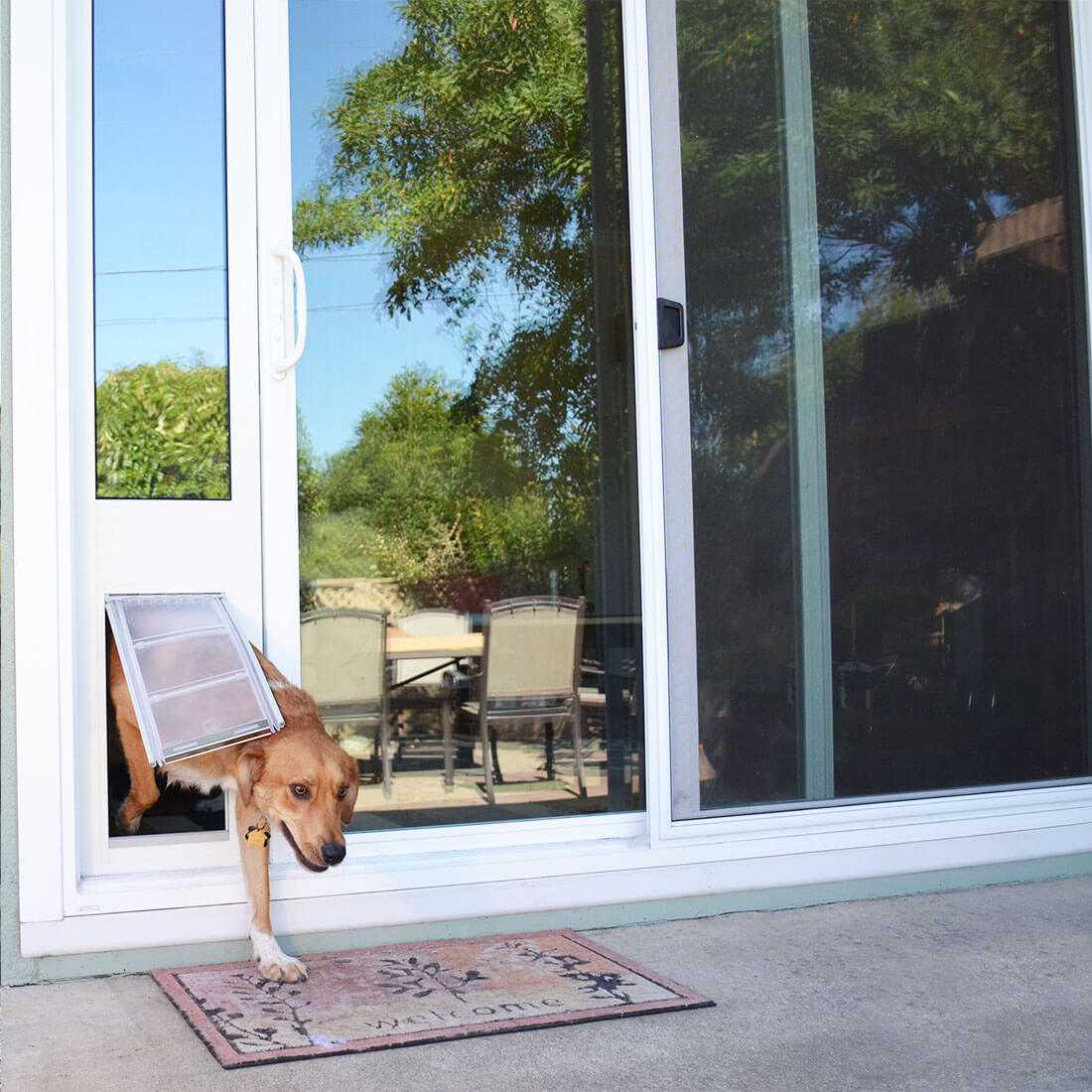 Choosing the best dog door for your sliding glass door doesn't have to be complicated. By understanding the type of sliding door you have, the climate in your region, and the needs of your pet, you can make a choice that will bring comfort to your home and happiness to your pet. 
If you need help finding what size pet door is best for you, check out this measurement guide. 
If you're still unsure what kind of pet door will be best for you, reach out to our customer service team. We'll be more than happy to help you find the best sliding glass door pet door for you.